Don't know what to do next? We do.™
Welcome to ServiceMaster Restore of Oakville
Water, Wind, Fire, Flood – Whether you have experienced property damage due to a singular incident or a Catastrophic event, ServiceMaster Restore of Oakville disaster restoration specialists are on-call 24 hours of every day to help you.
Fully equipped and trained with the most current restoration techniques and technologies, our certified staff of disaster mitigation specialists will respond rapidly and effectively no matter what the emergency, location or time of day or night.
When it comes to damage due to fire, flood or winds, mitigating the emergency is only part of the solution. We also provide complete repair services to bring your premises back to the warm, livable and workable condition that you deserve.
Whether the property damage is to a single family home, a high-rise or a commercial property, we have the experience and skills to provide the most effective solution to get your property back to its pre-loss condition.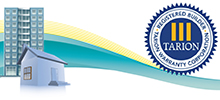 As a Tarion registered builder you are assured of not only a high standard of finish, but also an effective, no nonsense warranty program.
At ServiceMaster of Oakville, we not only restore your property, we also restore your Peace of Mind.
FAQs
How does mold spread?
For molds to grow and reproduce, they need a damp environment and an organic food source, such as cellulose, which is found in many building materials such as wood, drywall, ceiling tiles, and other household materials such as carpeting and fabrics. Mold can also grow in a home's HVAC system, gutters, roof, foundation, and other areas where the environment encourages mold growth.
Should I open the windows to help the drying process?
Opening the windows in your commercial property to assist the drying process is not always recommended. Outside weather conditions may vary. Your ServiceMaster Restore technician will determine when and if opening windows to let in outside air is advisable.
Blog
Commercial Water Damage: Know The Facts
Every commercial building is different, but each one is at risk for water damage. Although there may be safety measures in place to keep your commercial property protected, problems like burst pipes, frozen plumbing lines or backed up drains can't always be prevented. The experts at ServiceMaster Restore want to ensure you have the facts when it comes to commercial property water damage.
ServiceMaster Restore of Oakville
2600 Bristol Circle
Oakville, ON, L6H 6Z7
Tel: 289-813-3583
Email: claims@svmoakvilledr.com
About Us
ServiceMaster Restore of Oakville is a leader in the disaster restoration industry. Our mission is to be the premier provider of professional restoration services to the residential home, condominium and commercial markets. While o
Read More
News
Severe weather claims reach record level
According to a report from the Insurance Bureau of Canada (IBC), insured damage for floods, windstorms, ice storms and tornadoes reached $1.9 billion in 2018.